Jacobsen Homes takes great care to ensure that your manufactured home is as safe as possible, including during heavy storms. Your new home is designed and constructed to meet or exceed all federal codes and requirements. It complies with the Jacobsen Homes Approved Engineering Package, the Federal Manufactured Home Construction and Safety Standards, and the National Electrical Code in effect at the time of production.
Our manufactured homes are designed by our highly-trained, in-house engineering staff and constructed to the highest standards, understanding that living in Florida inevitably brings wind storms, including tornadoes and hurricanes. We want to help you feel confident in the durability and safety of your manufactured home by explaining what you need to know for windstorm protection.
How Manufactured Homes Stand Up to High Winds
The current Federal Manufactured Home Construction and Safety Standards require the exterior of a manufactured home to be constructed for Wind Zone II or Wind Zone III, depending on where it will be located. For Zone II it should withstand a force of 39 pounds per square foot and wind speeds of 100 mph. The exterior of a manufactured home constructed for Zone III is designed to withstand a force of 47 pounds per square foot and wind speeds of 110 mph.
Take a look at the Data Sheet/Compliance Certificate located in your home to determine which Zone your home was constructed for. Although your home will meet or exceed these requirements, we strongly suggest that in the event of a hurricane, tornado, or other storms that contain strong, driving, sustained winds, or strong gusting winds, you take appropriate steps and evacuate your home.
Make an evacuation plan so that all family members know where to go, what to bring, and how to find one another. Read on for additional instructions on protecting your manufactured home in a windstorm.
What to Do When a Hurricane or High Winds Approach
Your manufactured home has been designed in a manner which will allow you to "board up" or "shutter" your windows and doors in the event that you have to leave during a storm.
Learn how to board up correctly to help prevent the doors and windows (See the resource links below) from being blown out or damaged by wind or flying debris. This extra measure of protection will help to reduce the chances of your home being damaged during a storm.
Steps for Boarding Up a Manufactured Home
1. Buy protective window coverings
Buy your protective coverings well ahead of storm season. We suggest that you use an exterior grade rated sheathing plywood.
2. Cut sheathing to cover windows
When cutting sheathing to cover windows and doors ensure that they are at least 2″ larger, each direction measured, than the window or door itself.
3. Vacate the home before adding sheathings
Before the protective coverings are installed the building must be completely vacated. No occupants should remain inside the structure, because the wind storm protection will not permit egress from the manufactured home if a fire or other emergency should occur.
4. Follow boarding-up instructions
Review the diagrams at the links below for specific boarding-up instructions for your particular manufactured home. The installer of the wind storm protection must verify that the wood screw placement properly engages the lumber framing for the attachment of the wind storm protection.
5. Remove window protections after the storm passes
As soon as the storm has subsided, and it is considered safe to return to your manufactured home, remove all windstorm protection before going back inside.
6. Repair wood damage from screws
Fill holes resulting from the wood screws immediately with a good quality exterior grade caulk.
Additional Resources: Storm Protection Instructional Diagrams
Storm Protection for Doors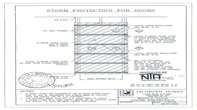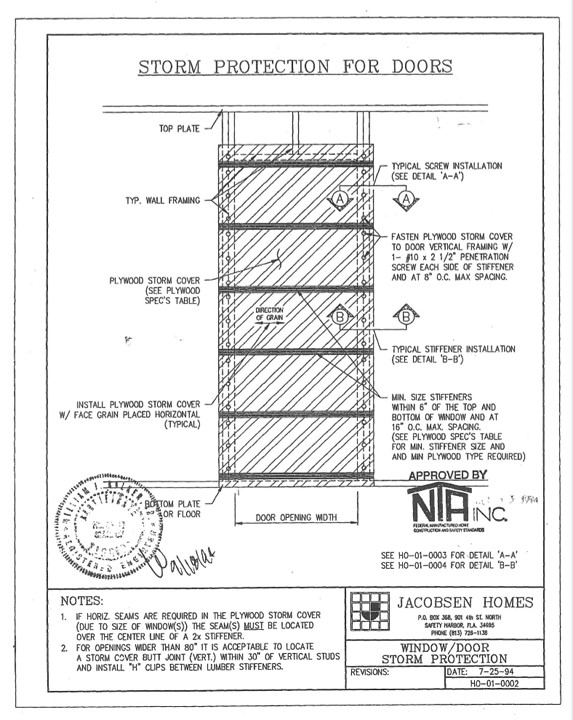 Storm Protection for Windows and Doors A-A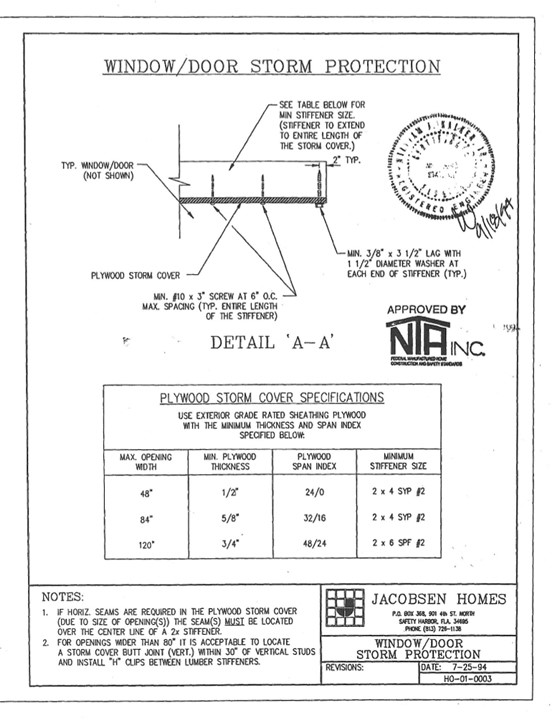 Storm Protection for Windows and Doors B-B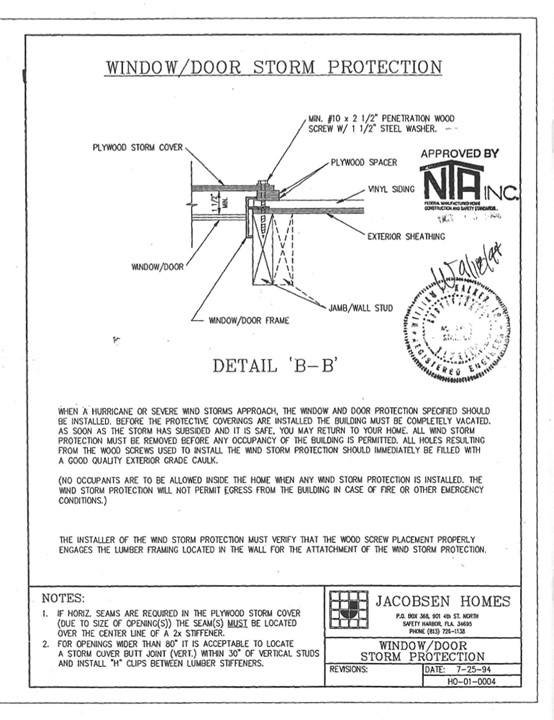 Storm Protection for Windows