Your home's exterior is what makes the biggest first impression. When looking for ways to upgrade your manufactured home exterior, you may have some big ideas right out of the gate – from landscaping and lighting to a garage and patio addition, and beyond. While these are great, value-boosting features, the smaller details have a part to play as well; in particular, your manufactured home's exterior doors.
Manufactured Home Exterior Doors and Their Impact
One of the biggest benefits of manufactured homes is their ability to be customized. You can take your time to choose your floor plan and hand-pick your home's features and finishes until it's everything you've ever dreamed of.
Your home's exterior doors can have a big impact on your curb appeal. In addition to enhancing aesthetics, they're also a functional necessity that, depending on the door you choose, can even increase your home's value. It's all about finding the right high-quality option that aligns with your style and elevates your home design.
Hand-Pick Your Manufactured Home Doors With Jacobsen Homes
At Jacobsen Homes, our team of designers will work with you to help you create your dream home. We offer a wide selection of standard and optional manufactured home features and finishes – including exterior doors. Here are our top exterior door options to choose from: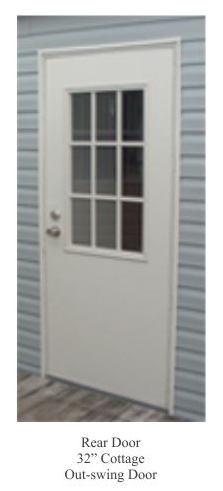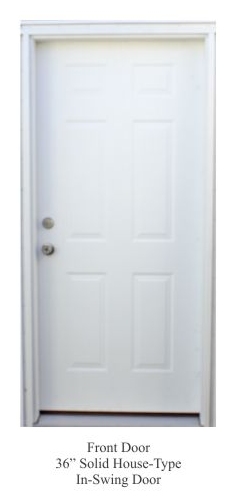 Stick to the Basics With Our Standard Front and Rear Doors
As a standard on all of our manufactured homes, we offer a white, 36-inch house-type inswing front door. This door, shown on the left, has a silver handle and deadbolt mechanism and features six rectangular panels for decorative flair – two small ones at the top, and four that span the rest of the door's length. Our standard rear door (on the right) is a white, 32-inch cottage-style outswing door that also features a silver handle and deadbolt mechanism. To stylishly let in natural light, the top half of this door has a beautiful glass panel with a white grille.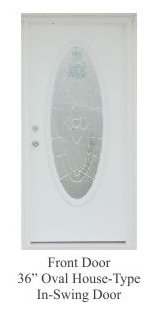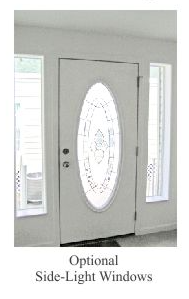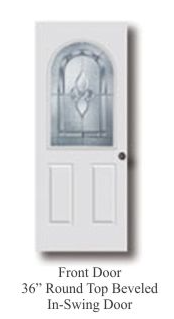 Make a Great First Impression With Stunning Luxury Front Doors
The front of your home is typically the part that your visitors will see first – and the front door will be their first interaction with your home. Make a lasting impression with our 36-inch oval house-type inswing front door (featured on the left). Let the most natural light in and create a sense of luxury by adding the optional sidelight windows.
For a simpler option that still provides elegance, you can choose the oval house-type inswing door without sidelights, or select our 36-inch round top beveled inswing front door (the image on the right). The design and frosted glass effects on both of these doors elevate style while also protecting your privacy.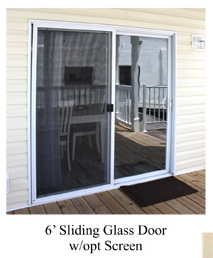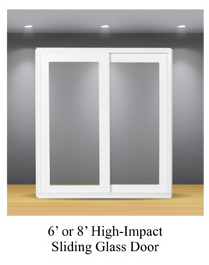 Upgrade to Sliding Glass Doors To Maximize Natural Light
On the left, you can see our 6-foot sliding glass door option, which you can have installed with or without a screen. The screen can increase privacy and should you choose to open the door, it can keep pests out while increasing airflow on those beautiful, sunny days. The ample glass space also allows you to take in and enjoy your view.
We also offer a six- or eight-foot high-impact sliding glass door, as seen above in the image on the right. Its thicker white frame and ample glass space create a modern look and make a statement that's sure to stand out. The durability of the high-impact glass is another benefit that can give you peace of mind and add to your home's value. Add either of these exterior doors to your back patio to create a seamless transition from the inside of your home to your outdoor living areas.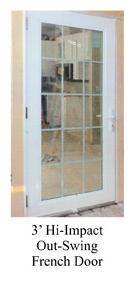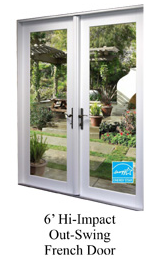 Boost Your Patio's Curb Appeal With Our High-Impact French Door Options
French doors are a classic, sought-after home feature that can give you a beautiful aesthetic, great function, and a lot of natural light. Both of our French patio doors are made with high-impact materials to give you peace of mind and add an extra layer of durability. You can find our French patio doors in two options:
On the left, our three-foot high-impact outswing French door option is one single door. It has a white handle and lock, and a matching white frame. To let in natural light in style, the large glass panel features a white grille detail.
On the right is our double French door option. It is a six-foot outswing door, which has a white frame and large, uninterrupted glass space to give you an unobstructed view of the great outdoors.
Create the Manufactured Home of Your Dreams With Jacobsen Homes
When looking to build your home, you will quickly find that manufactured homes are a more affordable housing option than traditional site-built homes. This is because of their affordable building materials and efficient construction processes. Because of their affordability, you're able to upgrade to luxury features and still make them work within your budget.
At Jacobsen Homes, we've been providing families throughout Florida high-quality manufactured homes for decades. Visit one of our model centers conveniently located throughout Florida to see our homes and their exterior door options first hand.
Ready to get started? Contact us today to create your very own manufactured home.