As you shop for your ideal manufactured home in Florida or elsewhere, you will want the assurance that it's well-built and will provide a safe living space for you and your family. The regulations set forth by the U.S. Department of Housing and Urban Development (also known as HUD) guarantee that manufactured homes are built according to spec from a safety and quality perspective.
A HUD certification is the most important certification a manufactured home can have. Read on as we discuss how a HUD-certified manufactured home benefits you, what it means, and why it's important.
What Is HUD?
Set to address the nation's evolving housing needs, the HUD's mission is to create a suitable, safe, and standardized living environment for all Americans. Their primary programs include:
Mortgage and loan insurance through the Federal Housing Administration
Fair housing rules and regulations
Community Development Block Grants to assist with economic development in low-income areas
Overall, HUD guarantees sustainable, safe, and affordable housing to all populations in the United States, enforcing all rules and regulations in the most vulnerable communities.
HUD and the Manufactured Homes Industry
Since 1976, HUD has enforced rigorous federal standards to ensure that manufactured homes are constructed correctly and safely. These standards are set for a wide array of manufactured home features such as thermal protection, fire safety, and energy efficiency, as well as design and construction rules and regulations.
Manufactured homes have come a long way since 1976. In addition to their safety, which is equivalent to that of a site-built home, you can turn your manufactured home into a luxury manufactured home by enhancing it with different luxury features. You can also choose from an array of different floor plans ranging from two to five bedrooms.
What Are the Requirements for HUD Certification?
The HUD has set federal building standards to ensure manufactured homes meet certain safety and quality criteria in terms of construction, design, and installation. To earn a HUD certification, a manufactured home must meet several requirements. The HUD prohibits manufactured home builders from offering homes that don't meet these criteria.
One of the most important guidelines is that the home must be constructed in a controlled environment to make sure its materials are preserved correctly, untouched by the elements.
A HUD-certified manufactured home must be constructed on a permanent chassis to guarantee stability.
HUD ensures all homes are constructed according to proper fire codes.
All certified homes must comply with national electrical and plumbing requirements.
In addition, the HUD code specifies certain wind zones and requirements that each home must meet according to the wind zone the home will be located in. This certifies that your manufactured home's exterior will be able to withstand the maximum typical wind speeds and pressure in your area. There are three wind zones, and Wind Zone III is the highest rating a manufactured home can get — protecting your home from wind speeds resulting.
What is a HUD Label?
A HUD label is issued to HUD-certified homes. It is attached by the manufacturer upon construction. It contains a three-letter code and a six-digit number that identifies the inspection agency that issued this certification.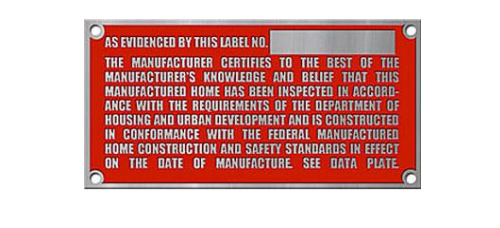 The data plate is located inside your home and provides additional information, such as the Wind Zone and Roof Load on the home, in addition to a serial number and the model number of the unit. This is useful information if you ever need to file an insurance claim, or if you list your home for sale.
How Does a HUD Certification Benefit You?
Your home is likely your largest investment. What's more, it's your safe space where the most important things to you along with your loved ones stay.
Purchasing a HUD-certified manufactured home can give you the peace of mind to make your house a home. In addition, you can confidently trust that you, your family, and your belongings will be safe and protected, even in the face of inclement weather.
Jacobsen Homes Is a Certified HUD Provider
At Jacobsen Homes, we are proud to say all of our manufactured homes are constructed in compliance with HUD standards. Since 1959, we have been a trusted leader in the manufactured home industry and a certified HUD provider. All of our manufactured homes come with a HUD label, to guarantee quality and compliance.
Our manufactured homes are highly customizable — giving you the opportunity to design the home of your dreams, with quality and safety at the forefront. What's more, we know the importance of flexibility, which is why you can find our homes in a variety of communities across Florida.
Ready to get started building your safe haven? Contact us today for more details or schedule a tour at one of our model centers.