The top considerations for buying a manufactured home in Florida, condensed.
If you've determined that buying a manufactured home in Florida is your ideal path to home ownership, you may be wondering – what's next? From finding a reputable manufactured home builder to exploring financing options for a manufactured home, it can feel a little overwhelming to juggle the multitude of considerations and ensure you're making the best decision at each step of the buying process. 
To help, let's walk through the overarching steps for how to buy a manufactured home in Florida, as well as the most important considerations you'll want to keep in mind. 
Interested in learning more about manufactured and modular homes in general before you start the buying process? Explore our other resources:
Mobile vs Manufactured vs Modular Homes: What's the Difference?
Guide for New Residents of Manufactured Homes
Phase One: Information Gathering & Planning
As with any major life decision, planning is perhaps the most important stage in the process of buying a manufactured home. Preparation is key for avoiding headaches down the road, so it's crucial to know what information you'll need throughout the process. When it comes to buying a manufactured home in Florida, here are some of the ways you should prepare before your search.
Analyze Your Budget and Financing Options 
It should come as no surprise that before you begin your search for a manufactured home, you'll need to analyze your finances, determine your budget, and understand available financing options. These components will overlap and help create a framework for your search. 
Analyzing your finances includes taking stock of resources like income – both current and future – as well as savings and retirement. You'll need to know your credit score, how much of a down payment you're capable of securing, and what your loan options are based on these details. Additionally, you'll want to factor in your assets, including whether or not you plan to sell any current properties and how that timeline will affect your financial abilities to purchase a manufactured home. 
Just as with purchasing a site-built home, you have a variety of tools and resources available to help you understand your options, including calculators for estimating monthly payments and mortgage rates. You'll also want to determine if you plan to buy or lease the land where your manufactured home will be located, as this can also affect the types of loans available to you. Whether you're crunching the numbers yourself or enlisting help from financial experts, you should aim to have your budget range in mind before you start the search for a manufactured home.
Determine Your Ideal Manufactured Home Community or Location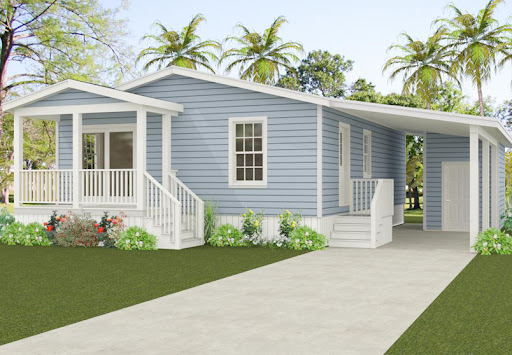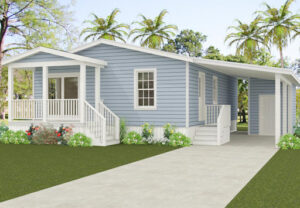 While many manufactured homes in Florida are nestled together in idyllic communities, potential buyers do have several options when it comes to the location of their new home. All manufactured home communities in Florida come with their own unique set of fees, regulations, and land ownership stipulations. 
For instance, a land-lease community — one of the most common manufactured home community types — requires homeowners to pay a monthly land lease for the use of their lot, but is often highly convenient and offers facilities and amenities within the community. Other types of communities include land-owned subdivisions and co-op communities, each with varying degrees of land ownership and perks.
Those who prefer buying a manufactured home with land outside of a community will want to consult with the local Zoning Department to determine if the property you are looking at is zoned for either a manufactured home or a modular home. 
Consider Florida Manufactured Home Insurance
Purchasing a manufactured home is a major investment, so as part of your preliminary research, you'll want to understand the variety of manufactured home insurance plans available in Florida and determine your ideal level of coverage. Florida mobile homeowners can find peace of mind knowing they have the financial protection to repair or rebuild in the event of a disaster. Customizable policies with various deductibles and additional coverage options, such as sewer backup or equipment breakdown, offer tailored solutions. By investing in comprehensive mobile home insurance, residents of Florida can enjoy a sense of security and stability, feeling truly at home in their manufactured houses.
Phase Two: Exploring Manufacturers & Design Styles
Once you've organized your finances and planned for your purchase, it's time to narrow down which size and type of manufactured home suits your lifestyle. Homeowners can typically choose from single-wide, double-wide, and triple-wide manufactured homes, often available with interior and exterior upgrades that can level up a standard floor plan.
Manufactured homes are also available in a wide range of square footage options, even upwards of 2,400 square feet. After you've determined which manufactured home size and style is right for you, it's time to find the right builder.
Find Qualified and Reputable Manufactured and Modular Home Builders in Florida 
Deciding on the style and size of a manufactured or modular home is only half of the equation – the next step is finding a home manufacturer you can trust. Manufactured homes in Florida are held to high standards, often specific to their county of residence, and must additionally comply with state and Federal building codes. By choosing a manufactured home builder with experience and integrity, you can be confident that your home is up to par with the state's regulations. Here's a quick overview of factors you should look for in a manufactured home builder. 
Transparency. A trustworthy home manufacturer will remain transparent about their building practices and design processes. At Jacobsen Homes, we know the importance of sharing our building process and are committed to answering any questions you may have —from where materials are sourced to what your warranty covers. 
Sustainability. From sourcing in bulk and recycling where possible to enhancing your home's energy efficiency through design and materials, choosing a manufactured home builder dedicated to environmentally-friendly building practices is important both for the planet and for reducing your energy costs. 
Experience.

When you're looking for a manufactured home builder, you'll want to be certain that their expertise is rooted in hands-on experience. Jacobsen Homes has been immersed in the

manufactured home community in Florida since 1959

, creating a unique perspective and depth of knowledge applicable to navigating the complexities of building manufactured

and modular homes

in Florida. 

Variety.

A well-equipped manufactured home builder should be capable of providing a broad array of designs and home sizes, with

customizations

that make it easy to craft your ideal abode. At Jacobsen, we carry

dozens of floor plans

and design customizations that can help your home feel one-of-a-kind. 

Consider an In-Person Visit and Discuss New-Build Timelines
Envisioning your future in a new manufactured home or manufactured home community can be difficult without having the opportunity for an in-person visit. Whether you're curious about the amenities in a certain manufactured home community or want to make sure a floor plan feels as spacious as it seems, scheduling a visit can be an essential part of your buying process. If you're choosing a manufactured home in Florida that isn't already constructed and ready to install, you'll also want to make sure your timeline aligns with your builder's schedule. 
Phase Three: Prepare for Move-In 
Moving into a manufactured home in Florida requires a similar set of preparations as any other major move. Reviewing legal documentation, downsizing your belongings to suit a smaller space or purchasing additional furniture to fill a larger floor plan, getting familiar with the local offerings — each of these can contribute to a successful, seamless transition into your new home. You'll also want to make sure your home has been properly inspected and understand the specific maintenance requirements you'll need to uphold. 
The Final Phase: Enjoy Your New Manufactured Home!
The best and most exciting part about buying a manufactured home in Florida is, of course, settling in. Whether that means sipping coffee on your front porch as you enjoy balmy breezes or sharing laughter with your new neighbors over dinner, there's no shortage of ways that owning a manufactured home can enhance your life. If you're interested in purchasing a manufactured home here in Florida, contact our team today and learn about floor plans available near you!